The sun went down and it got chilly quick!!....burrrrrr my legs look a bit blue. I give credit to the liquid pants that went on after happy hour.
camera phone shot taken by hubby...
What a SUPER WEEK! I worked in Madison, WI Mon-Tues, came back and kicked butt at work, celebrated Cinco de Mayo and ended the week at Happy Hour with my hubs. I am loving life!! The weather has been so nice I decided to dress in my spring goodies.
We took these pictures after a super yummy happy hour...therefore, my skirt did start tucked in, but as you can see, I had to untuck it! I think it still looks fine...who cares anyway?
OUTFIT
I am so proud, as a new found thrifter, to say: my
skirt (Anthro brand)
, sweater (J.Crew Brand), and purse are
all thrifted!
My
necklace
is from UO on sale for $9.99. I'm soooo happy with my
$1.50 bracelets
from F21- they are soooo worth my hard earned 6 quarters!
The top is from Target and I've had it for a few months.
I should've taken a more detailed picture of the purse, but it was $12 at local thrift store-
with the tags still attached!
SHOP
: skirt: thrifted/ necklace: UO/
bracelets
: F21/ top
similar
: Target/ purse
similar
+ sweater
similar
: thrifted/
shoes
: UO
If I could do some shopping this week I would buy
this top
from Anthro. Loving it!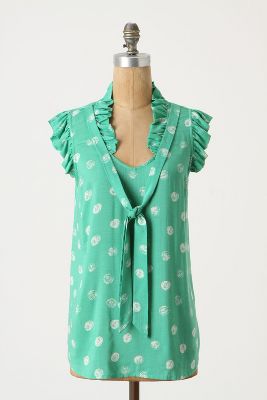 I know I am on a mustard obsession right now. Not sure when it will end but thanks for dealing with it! Which color are you loving in your wardrobe currently?